The Brigades in the City of Wanneroo are supplied with a multitude of appliances used in both firefighting and support roles at fires and other incidents. The vehicles are fully owned by the City of Wanneroo and are maintained by the City and brigade members.
The following appliances are assigned to the Quinns Rocks Volunteer Bush Fire Brigade:
The Light Tanker is a versatile first response appliance designed to allow quick and easy access to fires in many situations. Due to its small size and 4WD capability, the Light Tanker can negotiate terrain that many larger appliances cannot.
---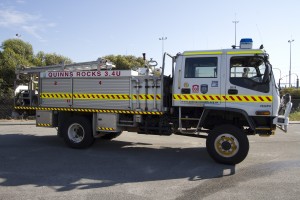 The 3.4 Urban Tanker is a multi-purpose 4WD appliance designed to be used in many types of incidents including bush and property fires. The appliance has multiple lockers and trays capable of storing lengths of hose, breathing apparatus and other ancillary equipment as required.